Beef + Bean Burrito Bowls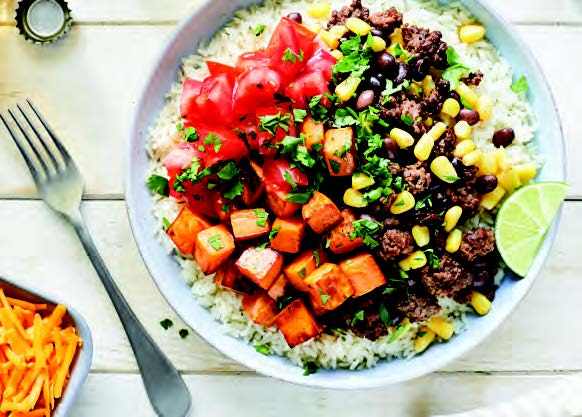 Directions
Preheat oven to 425°F. Toss sweet potatoes with 1 tbsp olive oil on parchment paper lined baking tray and bake for 15-20 minutes or until browned and tender.
In a medium saucepan, add 1 tbsp oil, garlic, cumin, chili powder and tomato paste and cook over medium low until fragrant. Add rice and cook for 1 more minute to coat with spices. Increase heat to medium, add chicken broth, and bring to a boil. Cover, turn off heat and let sit for 15 minutes until all the broth has absorbed into the rice. Set aside.
In a large skillet, brown ground beef in remaining oil over medium. Add chili powder and cumin and stir to combine. Add black beans and corn, cover and cook for another 5 minutes.
To make guacamole, mash together avocado, cilantro, lime, jalapeno and salt in a medium bowl.
To assemble, divide ¼ of the rice, beef and bean mixture, tomatoes, red pepper, guacamole, salsa, and sour cream between 4 bowls. Garnish with lime wedges.