Potato Bravas
Recipe courtesy of local island Chef Pape Sine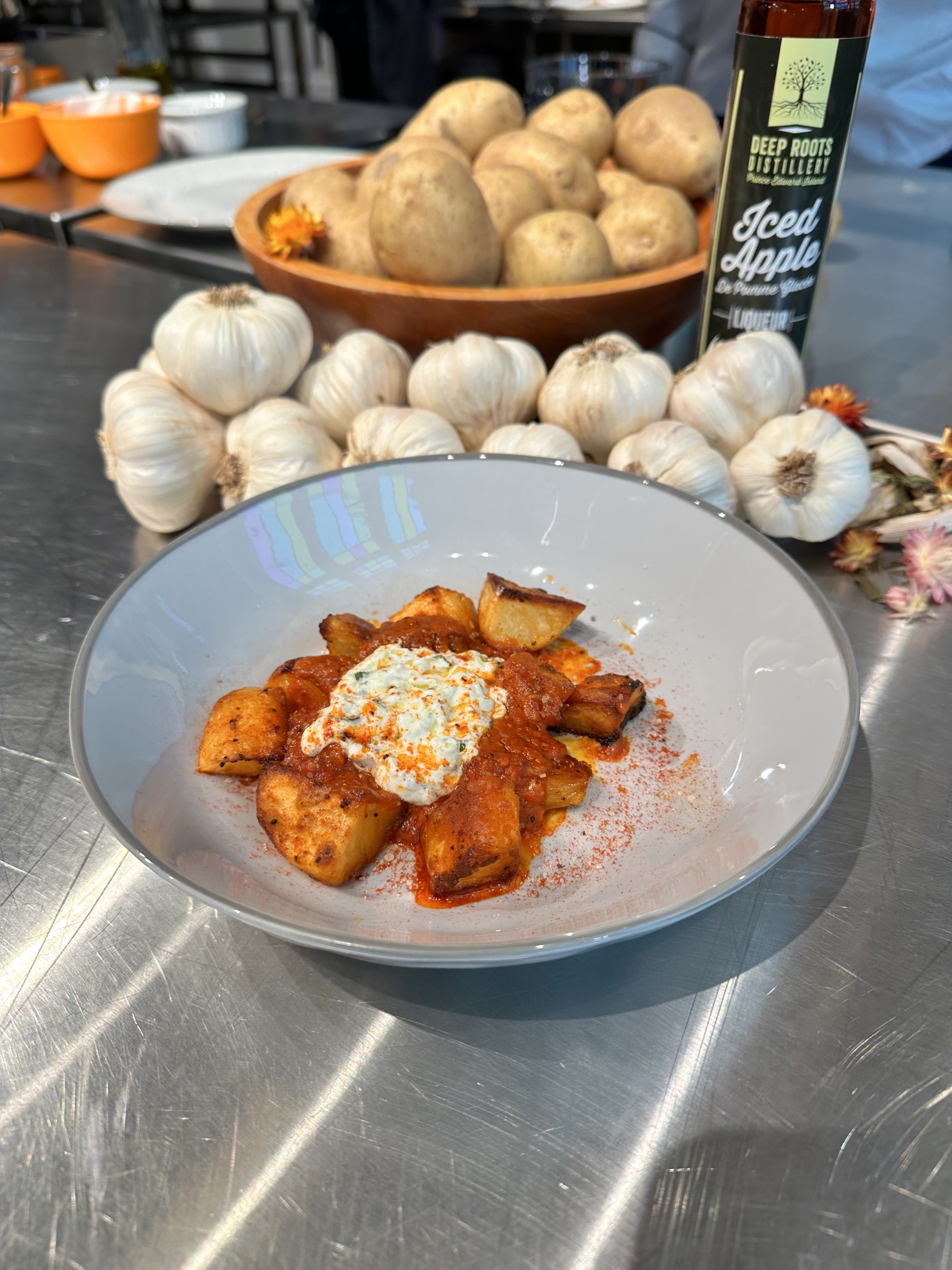 Ingredients
For the Potatoes:

For the Salsa Bravas:

For the tzatziki:

Bravas Salt
Directions
Heat oven to 450 degrees. Put potato chunks in a large bowl, season generously with the Bravas Salt and toss to coat. Leave for a few minutes to let potatoes absorb salt. Add olive oil and unpeeled garlic cloves and toss to coat well.
Transfer potatoes, garlic cloves, and oil to a large cast-iron skillet or heavy roasting pan. Make sure to have potatoes in a single layer without crowding. There should be a good ½-inch oil in the bottom of the pan. Add more if required.
Place pan in oven and roast for 15 to 20 minutes, until potato chunks are well browned on the bottom. With a metal spatula, carefully turn chunks over. Reduce heat to 400 degrees, and continue roasting until potatoes are well browned and crisp, about another 15 to 20 minutes.
While potatoes are roasting, make the salsa brava: put 2 tablespoons olive oil in a small saucepan over medium heat. Add garlic and let sizzle without browning, then stir in flour and let mixture sizzle. Stir in tomato paste, pimentón dulce and pimentón picante, then add chicken broth gradually, stirring well as the sauce thickens. Bring to a gentle simmer, add vinegar (or liquor) and cook for 5 minutes until the sauce has a gravy like consistency. Thin with a little more broth or water, if necessary. Season with salt to taste.
Make the Tzatziki: toss the cucumber with a generous amount of salt and leave in a colander in the sink to wilt for 15 to 30 minutes. Rinse and drain on paper towels. Beat together the yogurt, garlic, mint, salt and pepper to taste, and olive oil. Stir in the cucumbers. Adjust seasonings and serve.
When potatoes are ready, use spatula to transfer to a pan lined with paper towels to blot, then to a warm serving dish. Sprinkle lightly with the bravas salt. Serve warm with the two sauces.
To make the Bravas salt: In a small bowl, toss all Bravas Salt ingredients until well mixed. Reserve.