Spanish Tortilla with Charred Red Peppers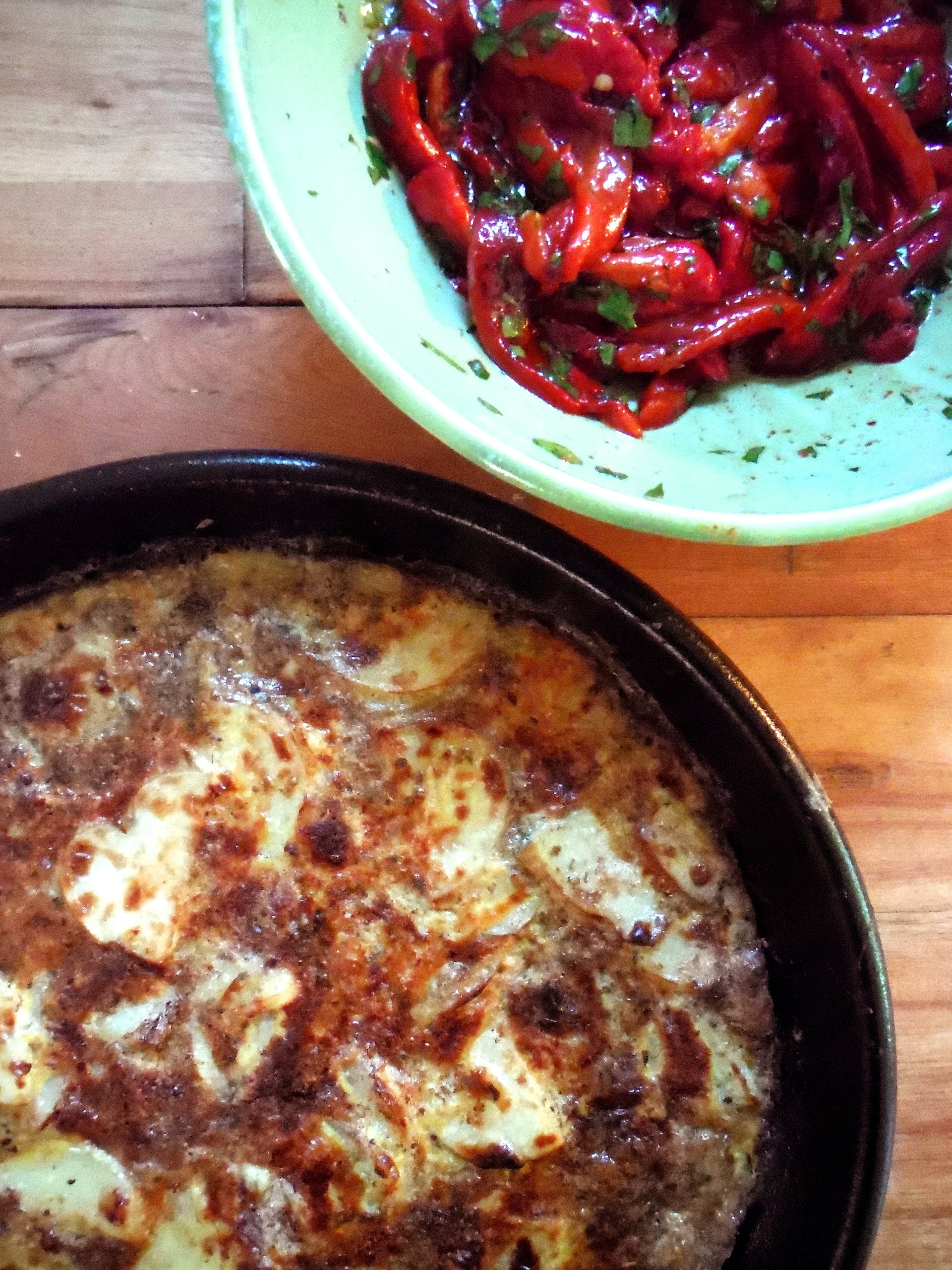 Directions
Thinly slice the potatoes and onion into pieces about half a centimetre thick. Heat a cast iron or oven-safe frying pan (about 10" wide) on medium heat and add 3 tbsp olive oil. Add the onions and potatoes and peeled garlic cloves and sprinkle with salt. Turn the heat down to low and cook for about 25 minutes until everything is gently golden and softened
Meanwhile, prepare your peppers by grilling on a medium high heat over a barbecue or under the broiler in your oven until the skin is charred, turning to get all sides blackened and all the flesh nice and soft (put the peppers on a baking pan if you're using your oven). Once charred, set them aside to cool enough to handle, then peel the skin off and slice into 1" pieces. Dress with extra virgin olive oil, parsley, and sliced spring onions. Set aside.
When your potatoes and onions are cooked, break the eggs into a large mixing bowl and whisk with a pinch or two of salt, pepper, and oregano. Remove the potato mixture from the pan, pick out the garlic and reserve it to add to the pepper salad, and tip into the egg mix. Scrape out any crispy bits from the pan and add 2 tbsp olive oil, staying on low heat. Gently stir the potatoes to coat in egg and pour into the oiled pan.
Cook on a low heat until almost no runny bits are left on top, about 20 minutes. Meanwhile, crush the cooked garlic and stir into your pepper salad for an added kick.
Once most of the tortilla is cooked, turn on your oven broiler and transfer the whole pan to the middle of the oven to finish cooking, about 3 minutes. Keep an eye on it to ensure it doesn't brown too much. Remove when the tortilla is a bit puffed up and cooked to a golden finish.
Serve warm or cold with the pepper salad on top, or with your own exciting topping!