Bacon Bundled Potato Bites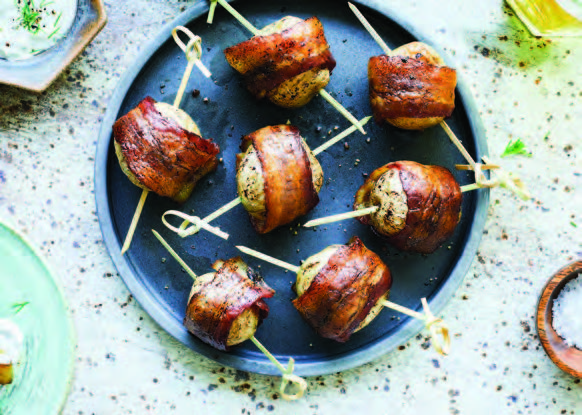 Directions
In a small bowl mix together sea salt, pepper and smoke paprika. Wash and pat dry potatoes. Wrap one piece of thick cut bacon around each potato, secure with a wooden toothpick and place on a parchment paper lined baking tray. Sprinkle seasoning mix over the potatoes.
Bake for 30 – 40 minutes, until the bacon is cooked through and the potatoes are tender when pierced. To further crisp the bacon, set the broiler to high and add tray back to the oven for 2 minutes. Remove and let cool slightly.
In a small bowl mix together sour cream and dill, season with salt and pepper.
Serve the potato bundles with the sour cream dip alongside for dipping.
Chef Tip:
For a variation of the dip swap the dill for chives.